The one & only
by No.1
TRION started as a baseball glove manufacturer providing innovative and creative concepts for leading sporting goods brands.  Each creative idea is designed to enhance functionality and improve player's performance.  Coupled with our craftsmanship skills, manufacturing technique, creativity and fair value, we aspire to become and stay as the "No. 1 Glove Maker" as evidenced by the dominance of the gloves that we make for the Major League players. We have been making gloves for all levels from the professionals to the sandlot league kids in the US and Japan.
Today, we are not only making baseball gloves but have diversified into the manufacture of lacrosse and hockey gloves in Philippines and Vietnam for the leading brand including gloves for professional players of Major League Lacrosse and National Hockey League.
As we grow with the glove OEM business and driven by the Japanese craftsmanship spirit and accumulated glove manufacturing skills, we have developed our own original brands of unique BAG line. Started with "TRION" launched in 1998, we now have "TOMOE" and "IKOT". Each brand embodies the unique and natural characteristic of the baseball glove leather and special natural fibers handcrafted by Philippine artisan weavers.
We will pursue to innovate and develop value-added design with handcrafted quality to stay as the One & Only 1.
Corporate Information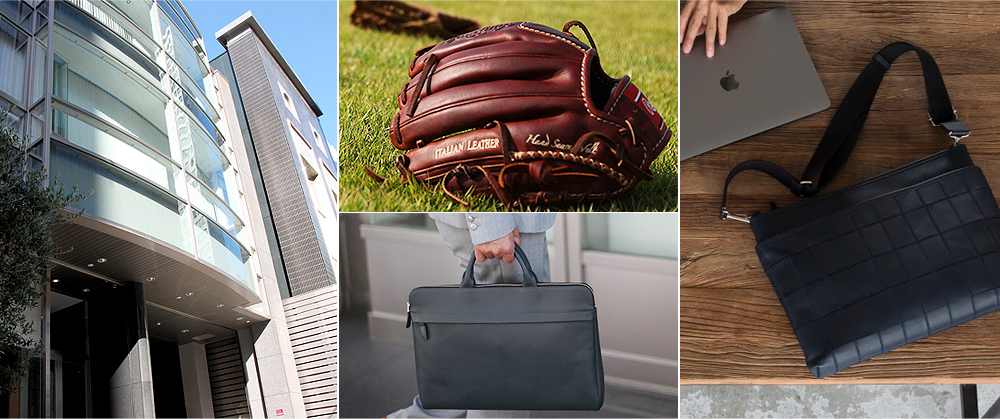 Company Name

TRION CORPORATION

Establishment

May 18, 1959

Founder

Akio Aoki

Address

5-10 Azuchimachi 2-Chome, Chuo-ku, Osaka 541-0052 Japan
TEL

(816) 6263-8025

FAX

(816) 6263-7272

E-MAIL

info@trion-net.co.jp

President

Kan Aoki

Affiliate (Philippines)

TRI-PHIL INTERNATIONAL, INC. (Manila)
-Establishment 1988
-Address R.M. Tiosejo Industrial Complex, Tunasan, Muntinlupa City 1773, Philippines
-TEL 63-2-861-9879
-FAX 63-2-861-5664
-President : Jocelyn A. Ventocilla

Affiliate (Vietnam)

TRI-VIET INTERNATIONAL CO., LTD. (Can Tho)
-Establishment 2007
-Address Plot No. 2-9A Tra Noc II Industrial Zone, Phoc Thoi Ward, O Mon District, Can Tho City, Vietnam
-TEL 84-710-3663399
-FAX 84-710-3663396
-Executive General Manager : Motoyuki Nakamura

Capitalization

TRION CORPORATION 20,000 (thousand Yen)
TRI-PHIL INTERNATIONAL, INC. 130,600 (thousand Yen) - conversion to Yen
TRI-VIET INTERNATIONAL CO., LTD. 154,000 (thousand Yen) - conversion to Yen

Bank Reference

Resona Bank, Ltd., Namba Branch, Osaka
Bank of Tokyo-Mitsubishi UFJ, Ltd, Namba Ekimae Branch, Osaka

No. of Employees

TRION 30
TRI-PHIL 800
TRI-VIET 800

Products Description of Business

■Baseball Gloves and Mitts / Equipment
■Lacrosse Gloves and Ice Hockey Gloves
■Bags and Baskets (made by leather and natural materials)
■Store Operation (Bags and Small Goods)
Corporate History
1959

Started as a trading company exporting sporting goods merchandise

1965

Started export of baseball gloves for US major sporting goods makers

1968

Established Trion Corporation

1975

Started baseball glove manufacturing shifting from trading company to manufacturing operation

1977

Acquired a factory in Kagoshima, Japan

1983

Secured own building in Nipponbashi, Naniwa-ku, Osaka

1984

Started bag production in Okayama, Japan

1988

Established Tri-Phil International, Inc. in Manila, Philippines as a baseball glove manufacturing company. Shifted its production from Japan to overseas since then.
* 1993 Closed factory in Kagoshima, 1998 Closed factory in Okayama

1991

Started import of baseball gloves for Japan major sporting goods makers from Philippine factory

1995

Started bag manufacturing in Philippines
Started production of baseball gloves for MLB Players

1997

Started lacrosse glove manufacturing in Philippine factory as a new product

1998

Started production of "Trion" brand bag

2002

Opened the 1st direct retail store "T's" in Horie, Osaka

2004

Built own building in Chuo-ku, Osaka
Launched "Lapu-Lapu" brand ladies bag
Opened the 2nd direct retail store "Trunk" at ground floor of Trion building as the 1st store "T's" was closed.


2005

Launched ice hockey glove production in Philippines, a new busines expanded from lacrosse glove manufacturing

2007

Established Tri-Viet International Co., Ltd. in Can Tho City, Vietnam

2009

50 years anniversary since it started business

2011

Started production of ice hockey gloves for NHL Players

2015

Launched "TOMOE" brand bag

2016

Launched new original lady's bag brands "ikot" and "alfajill" that replacing "Lapu-Lapu"

2018

50 years anniversary since it was established
Production Site
TRION, from the time of its foundation, engaged in trading business with Asian countries, and established factories to manufacture related products. Today, we are continuously making efforts day to day to aim at integration of TRION's management principles and the ways in Philippines and Vietnam by embracing their cultures and traditions.
Quality Policy
As a major manufacturer of leading brands, we commit to produce innovative and world class quality products and services delivered on time at competitive prices which meets and aims to exceed customer's demand.

was established in 1987 manufacturing leading brands of baseball, lacrosse and ice hockey gloves for export to US, Canada, Europe and Asia. The business later expanded to include manufacture of leather & handcrafted natural fiber bags exported to Japan. These Philippine indigenous materials are hand woven by artisans and supports sustainable livelihood for communities.
Trained from Japanese craftsmen, our glove technology is reputed as one of the best in the world as evidenced by the dominance of our products for Professional League players. We take pride in the recognition of the quality of the products and services that we provide to the international market. Japanese discipline, passion and quest for excellence together with Filipino ingenuity and craftsmanship combines the best of both worlds and has been the propeller of our continuous growth.

was established in 2007 as the second manufacturing site to lead capacity expansion for our Trion group. It has been growing rapidly in 10 years, and accomplished to be one of the best worldwide scale sophisticated glove manufacturer. These accomplishments are realized through the synergy of "Passion to work" by Japanese, "Accumulated Technologies" by Filipinos, and "Diligent Effort" by Vietnamese.
The Vietnamese factory has been a contributing factor to our Trion group for sourcing new materials and machine technologies by using the advantage of supporting industry. We embrace new growth opportunities from this big potential site by technological innovations, to create new valuable products and industrial improvements in production, possessing the skills, intelligence, and fighting spirit to achieve success.
Research and Development
Through extensive Research & Development, we are able to produce original patents and designs in order to be competitive in the global market and our goal is to help athletes achieve their peak performance through our products.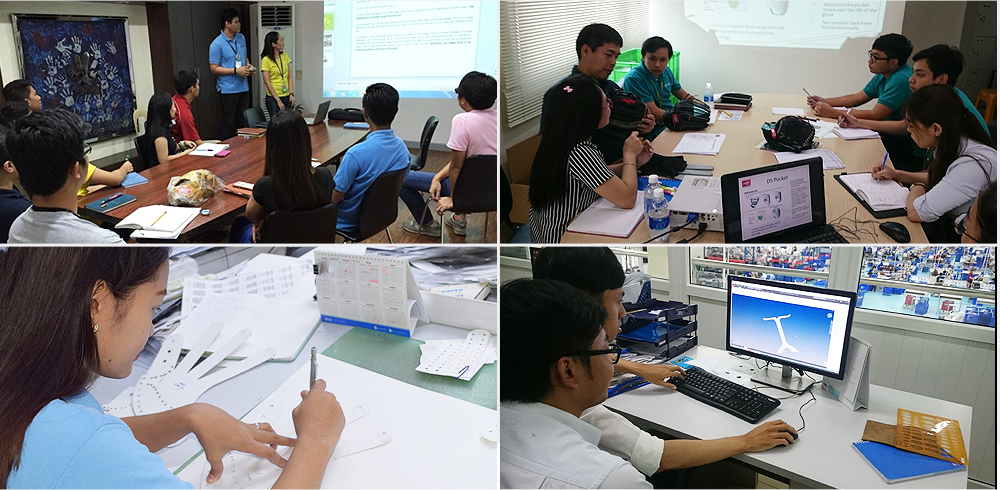 Manufacturing
Our extensive manufacturing site produces high quality products with efficiency to meet customer's  demand.

Craftsmanship
Mixing traditional techniques with modern technologies, we aim to manufacture each product with care and precision to produce a true "Handcrafted" product.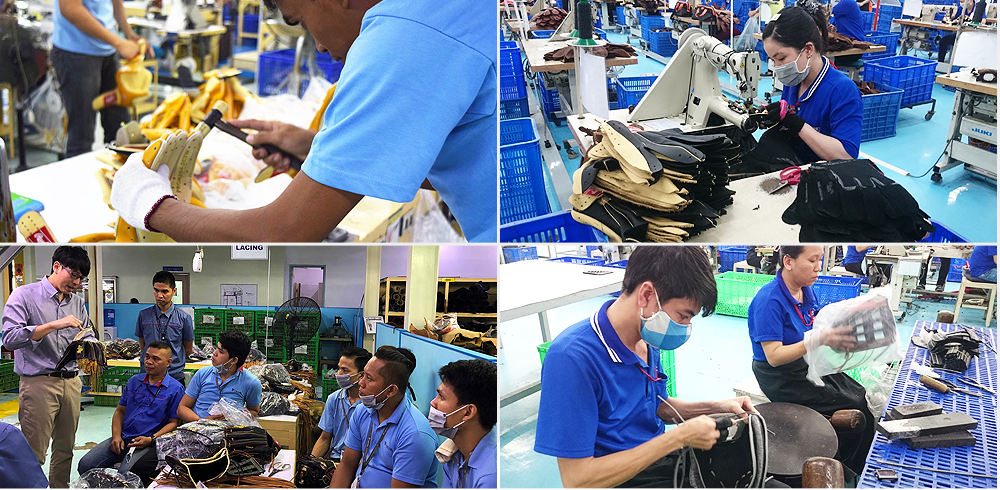 Training Programs
Company initiated training programs are essential in increasing our knowledge of modern technologies and the marketplace.

Activities
The promotion of activities such as team building, sports fests and company outings increases camaraderie between employees.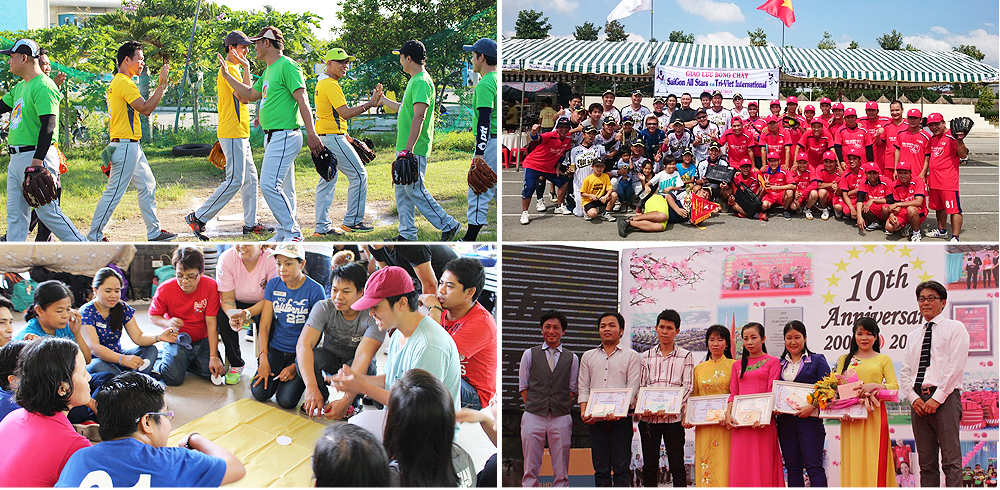 Contribution to the Community
Helping build up the communities and supporting sustainable livelihood such as scholarship program and charity work, is a fundamental part of our corporate values.